Forums : S-10 : Ghetto SFA build (23908 Views)
December 2, 2008
Looks like you had fun! Good video man!
Chris
December 2, 2008
Awesome pics and video, that front right leaf looks really tweaked in the picture.
December 2, 2008
both those leafs are jacked up. they are like flat and bent. thats why i said i put a extra leaf back in the pack, kinda helped out the shape a bit. they are 4inch k5 lift springs so yeah they are pretty wore out.... just waiting for one to break then ill replace them
December 3, 2008
Yeah, I''m going to run a 3 leaf pack on mine, they will probably get demolished.
December 3, 2008
pretty sure thats what i had. it was a 5 to start with and i took out the bottom two cause the truck was to tall
December 3, 2008
I just realized them wheels have a bunch of offset. Is that like 4inches?
December 3, 2008
Probably like 2.25 *or* 2.5 bs, mine look like that and are 2.5 I believe.
December 3, 2008
ah who knows. i had them rims laying around. i have 3.5 inch backspacing on my k5 and they look about the same. im thinking about swapping them rims out for some 7inch wide ones. so i can run lower pressure and actually be able to fit the dang truck on the trailer
December 15, 2008
finally got a bunch of video together. as crappy as it is it took me hours. to find a program to swipe it from dvd format then to use windows movie maker to edit it.
nothing to hardcore just proves that it actually runs. mostly from earlier in the year with open axles. all the video of the truck with the actual roof still attached is the very first time out. so its basically a bunch of video of me stuck and getting drug around
http://www.youtube.com/watch?v=0YQyuf9ZJNo
really the only two interesting parts
2:13 a quad fell down the hill and onto my truck
5:47 got a flat with walls on the side, ran the winch up to the side and lifted the truck.
December 15, 2008
lol pretty good Joe..
December 15, 2008
Awesome video! Love the ATV laying against your truck and the dude leaping out of the tree crotch to avoid you!
December 15, 2008
yeah ive had some interesting times at that place, after i went down a new rubicon went down and hit that tree too. just messed up his plastic fender flare thing. also thats the hill that made that huge dent in my driveside, i came down sideways and hit a tree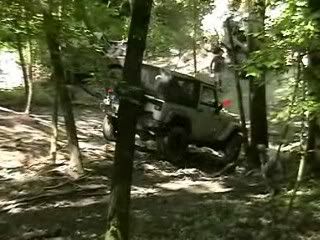 Post Message
BECOME A MEMBER TODAY!
Join.
Forums : S-10 : Ghetto SFA build